I wish to take this opportunity to remind everyone of the plight of the Maupin Family. Although they have a very good support system of family, friends, and townspeople, it's also important that all Ohioans stand with them, as well as all Americans! I am providing the banner link to their website, a photo of 'Matt' Maupin still POW/MIA in Iraq and any/all updates of his current situation/standings/status. At this time, 'Matt' has recently been promoted to Staff Sgt. status and we send our heartfelt CONGRATULATIONS to him and to the Maupin family and crews working to support Matt and his return. We also THANK the United States Army for not forgetting this young man and Hero! He has faced, and may yet today, continue to face the most horrid challenges known to mankind...that of being a PRISONER OF WAR. Please join us in praying for his safe and speedy return to the arms and hearts and happy home of his loved ones! Click on their banner, visit their website, leave them a message of support! Just remember, what would YOU want if this were your son..........
missing-captured to deceased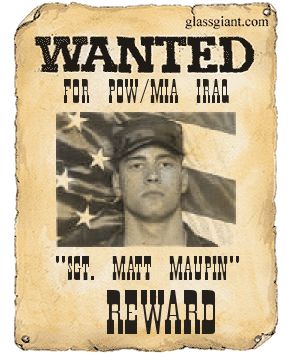 In a recent Marine Corps Times article:
Keith, I received my Marine Corps Times magazine this am and in the back there is a section where people can write in, sort of a letter to the editors type thing. There is a retired Army Master Sgt. Officer who has some shit to say about Matt's latest promotion. They have even provided a photo of Matt to go with the article. I will re-type the article below word for word for your convenience.
UNNECESSARY PROMOTION
Prisoner of war Keither "Matt" Maupin has been selected for or promoted to staff sergeant ("Maupin promoted," Frontlines, Aug. 28".
When is this going to stop?
When he was captured/went missing/was most likely killed in the ambush three years ago, he was a specialist, northing extra-ordinary. He was a truck driver doing his job, who happened to be in the wrong place at the right time.
He was promoted to sergeant. The Army does it all the time. Tombstone promotions are common, especially of the person is one a promotion list.
But now, he will be a staff sergeant. The excuse is he does not have to appear before a promotion board because he is a reservist. That means he has been in the Army for four to five years.
If his status doesn't change, will he be recommended for promotion to sergeant first class in a year?
I have no problem with the promotion to sergeant, but it should have stopped there.
Army Master Sgt.
Richard W. Smith (ret.)
Vacaville, CA.
To reply using the Marine Corps Times
Letters must include your name, address, daytime phone and rank. Submissions may be edited. Send to:
Letters to the Editor
Marine Corps Times
6883 Commercial Drive
Springfield, VA 22159-0170
OR~
Personally speaking, I think he's afraid that Matt will end up out-ranking him! I don't think Matt was "in the wrong place at the RIGHT time"; I think Matt was in the wrong place at the WRONG time. As far as Matt being 'nothing special'....maybe at the point and time he was captured he was just like any other soldier.......but NOT NOW. What right does this Army Veteran have to judge Matt or the Maupin family and the suffering they are endurring? Has Master Sgt. Smith walked in the shoes of either POW/MIA SSgt. Maupin or the Maupin Family?
Master Sgt. Smith is a retiree; why does whatever status SSgt. Maupin have affect him other than quite probably an attack on his personal pride? There are many of us who feel that Matt is still very much alive. We hold the HOPE and the FAITH. We have seen not one iota of proof that this is not true. Don't make assumptions and ask that the Maupin Family or any of their supporters, military family members, friends and supporters, join YOU in giving up HOPE. We have not, We WILL NOT, until such time as we are presented with one item of solid evidence; which there is NONE as of yet.
Whatever is the status of SSgt. Matt Maupin, HE IS A HERO OF OIF. Whether dead or alive, he faced a far greater fear, he faced the enemy close up, one on one, he faced evil on a personal level, and we will not give up our hopes, our faith, and our prayers that RIGHT will win out over evil. Including Matt, and his personal level and battle, albeit outnumbered, within the real axis of evil.
Sir, you owe America, all POW/MIAs and the families who suffer still today, a huge apology. Also personally speaking, I don't care what 'name' the Army places on these promotions, you had no right to publish it in a widely read military newspaper for the Maupin family to read. That's just rude and crude to the feelings and painful hurt they are already suffering. I don't know how the Army could possibly figure Matt is a 'reservist' when he is still 'in country' in an active warzone as a POW/MIA. That's about as 'active duty' as one can get and remain.
Diane M. Weller
POWMIA ANGEL

Diane,
I did see that article and it didn't take long to figure out to go into a battle of wits with this idiot would be going to battle with an unarmed man.
He does not know what he is talking about and seems to me to be a self center old has been that will never be a SgtMajor. He seems to want to take his frustrations out on a man that is not here to defend himself while he is defending this idiots right to make his petty accusations that Matt doesn't deserve to be promoted. He is the one that didn't deserve to get promoted and that is why he retired. The Army apparently had no more use for this mans mentality in today's Army and passed him over probably three times before he finally figured out the Army doesn't want him.
We did call the Army and our contact said he will pass it on to the appropriate people and it wouldn't be surprised it this E8 didn't get a call from the SgtMajor of the Army real soon.
Thanks for keeping the faith and hope for Matt. He needs to be home but cannot be here until his job is finished. He will never quit.
Till they all come home,
http://www.marinecorpstimes.com/story.php Remember POWs, MIAs News reports about Army Staff Sgt. Keith Matt Maupin get a lot of attention because he is the only soldier listed as missing or captured in Iraq. The Army press release announcing his promotion to staff sergeant is notable, though. It demonstrates; in one simple phrase; the steadfast commitment of the military to account for all of its service members, whether dead and not recovered or missing in action. This will keep Staff Sergeant Maupin in line with his peers so that when he returns; the Aug. 9 release said; The faith and optimism of the message is clear. Make no mistake about it, the Army intends to find Maupin and bring him home. And failure is not an option. U.S. soldiers live and breathe the warrior ethos& every day as they serve their country at home and abroad, in peace and in harms way. They are dedicated to their nation and to each other. And amid the chaos and confusion inherent to the global war on terrorism, they continue to search for their comrades from this conflict and from conflicts past. Under the direction of the Defense Prisoner of War/Missing Personnel Office, U.S. government civilians and uniformed military personnel actively pursue the cases of our service members missing from all of Americas wars. Diplomats confer with representatives from other nations and negotiate for access to battle sites, and search-and-recovery teams interview witnesses and conduct excavations in methodical searches for remains or personal effects. Of the 2,646 service members originally listed as missing from the Vietnam conflict there and in Laos, Cambodia and China, 841 had been repatriated and identified as of May 1. Efforts continue to account for the remaining 1,805. There are still 78,000 troops unaccounted for from World War II; 8,100 from the Korean War; and 120 from other Cold War conflicts, according to the Joint POW/MIA Accounting Command. Teams of Americans relentlessly work in numerous countries to ensure that our nations defenders make their way home. Sept. 15 has been designated National POW/MIA Recognition Day. Memorials will be held, veterans organizations will hold rallies, and government officials will make speeches. In Bartonville, Ill., friends and family will come together to remember Maupin and to pray for his safe return. Every American should take the opportunity that day to pause and reflect on what it means to be an American service member. Army Capt. Greg C. Reeson Fort Lee, Va; Personally speaking, I think retired Army Master Sgt. Richard W. Smith is afraid that Staff Sgt. Keith Matt Maupin will end up outranking him [Unnecessary promotion Letters, Sept. 4] I don't think Matt was in the wrong place at the right time, I think Matt was in the wrong place at the wrong time. As far as Matt being nothing special maybe at the time he was captured he was just like any other soldier, but not now. What right does this veteran have to judge Matt or the Maupin family and the suffering they are enduring? Has Smith walked in the shoes of either Matt or the Maupin family? Smith is a retiree. Why does Maupin's status affect him, other than possibly attacking his personal pride? There are many of us who feel that Matt is still very much alive. We haven't seen an iota of proof that this is not true. Former Airman Diane M. Weller West Salem, Ohio In response to Unnecessary promotion whose author considered Keith Matt Maupin's most recent promotion to staff sergeant inappropriate: Maupin is in a missing-captured status. In accordance with Army regulatory guidance, enlisted soldiers who are in a missing-captured status are eligible for consideration for promotion. Maupin met all the requirements for promotion, along with other deserving soldiers in his command who were also selected for promotion. Maupin will continue to be considered for all favorable personnel actions for which he is eligible while in a missing-captured status. The Army&s warrior ethos calls for us never to leave a fallen comrade. We will not leave Maupin in thought, word or deed, and this promotion is just one example of our continuing commitment to him. Finally, all service members should look upon this action and take confidence that, should they ever be in the same situation, they would receive this same kind of consideration. Lt. Gen. Jack C. Stultz Chief of the Army Reserve and commanding general Army Reserve Command The Pentagon Washington, D.C What kind of price can you put on a soldiers life? A couple of stripes to honor him, but the writer of Unnecessary promotion didn't feel Keith Matt Maupin was worthy of this? Maupin was captured about four months before I entered Iraq as a reservist. I have followed this story with hope that maybe he will be returned to us. Leadership is something I live by when it comes to dealing with my troops. Compassion for my fellow soldiers is also something I live by. Army Master Sgt. Martin Swiss Franklin, N.J

Ohio is also proud to be the Home State to the famous Drag Race Car known as the POW/MIA Car where all Ohio POW/MIAs names are painted on the car. The Owner and Driver of the car, Pam Imhoff, has become a good friend. I hope you'll take a moment of your time to visit her website too. The maintenance on the car, fuel costs, entrance fees into the races, and so much more, are all paid for directly out of Pam's pocket! When she tours with the car, that too, comes out of her own pocket. She needs all the assistance, via donations, she can get; so if you've got the itch, please donate to her cause. We MUST keep the POW/MIA car moving!!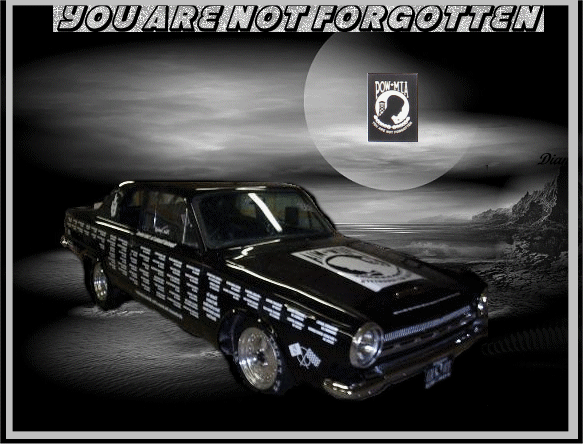 Fun Graphix is a non gain, non profit group for sharing purposes only.

DO NOT contact the Owners or Members over copyright issues.
All shares are done under the FAIR USE Act with out any gain or profit
& therefore is not a crime .

No Members claim to have made any of the graphics that they send to this lis/websitet.
The graphics come from a wide variety of web sources & are therefore deemed to be public domain. As far as they are aware they are licensed for personal use only, & are by their respective artist. Any infringement of said copyright is non intentional.
The tubes/mists/graphix are for Non-Profit use ONLY any other use is prohibited.
All respected rights go back to the original creator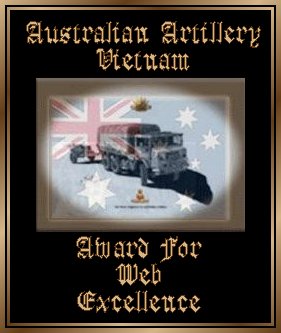 The webmistress supports Feel Free Graphix. You are more than welcome to right click on any graphix and "save as" name you decide and save to your computer.


Please spread the word of our Prisoners of War and our Missing in Action. There are STILL Americans who don't know anything about them! There are Americans who don't know the true meaning of POW/MIA! TEACH THEM. NEVER FORGOTTEN!!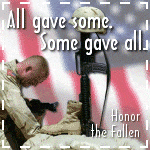 Top List

Please CLICK and offer us up a VOTE? THANK YOU!!
SiteRing by Bravenet.com
Powered by WebRing.

Agent Orange Veterans
Powered By Ringsurf
Please enjoy a visit to my other websites, jammed full of graphix all free for the taking!
POW/MIA Awareness
Powered By Ringsurf